European Blackjack Redeal Gold Brings Unique Features to the Table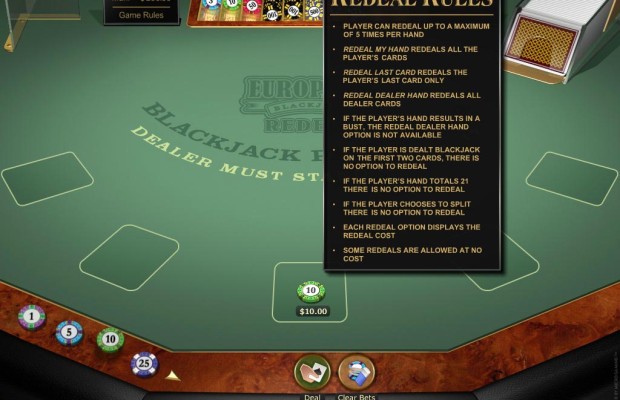 Unhappy with your blackjack hand? In most situations, you're out of luck. You might know you've lost before the hand has even played out, but you just have to sit through the animations anyway. Not so with European Blackjack Redeal Gold. This new title gives you the option to redeal cards when you know you have a lousy hand. Here are the types of redeals you may do:
Redeal your whole hand
Redeal your last card
Redeal all the dealer's cards
You may not:
Redeal your hand after a split
Redeal more than 5 times per hand
Redeal the dealer's hand if you bust
Redeal if you get a blackjack or 21 (but why would you want to?)
While some of these redeals might be free on a given hand, most often there will be a small additional fee to activate the redeal. These fees will be clearly displayed before you finalize the redeal action.
Some other interesting twists that European Blackjack Redeal Gold presents include the chance to play blackjack online with just 2 decks. With fewer cards in play, you have a better chance of guessing which cards may come up, making the redeal option even more useful.
European Blackjack Redeal Gold has other significant differences from other blackjack games. For example, insurance is not offered on a dealer's ace, and split and double down options are limited. You can only split once, and you can't double down on a split or split unlike cards.
Once you master these quirks of European Blackjack Redeal Gold, you'll soon get absorbed into the world of the game. Seamless card and chip tray animations, elegant and realistic graphics, and subtle ambient sound will draw you in and make you feel like you're right there at the casino table. You might even find yourself trying to order a drink as if you were really in a casino.